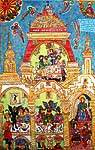 Creative work of the artist bears joy, joke, hoax, echoes of carnaval, deliberate shift to the improbability.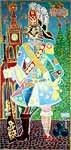 His images are close to a fair, folk tales that always promise a merry and happy end.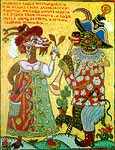 It is an attempt to join the folk amateur art with modern unreal images. The surrounding world where the artist lives provides ample of the material for such vision of the world.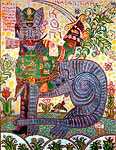 The creative work of S.Gorshkov combines allegory with image eclecticism, which is assimilated in the artwork and allows one to see catastrophicity of the reality behind its superficial beauty.

The artist deliberately creates a primitive image, he tries to interprete the cultural heritage not speculatively but rather irrationally, because the ancient tradition of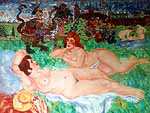 Russian folk art is a mine of information for the modern style of this artist.




CLICK
on
an
icon
on
the
left
to
see
full-sized
image
THERE >>>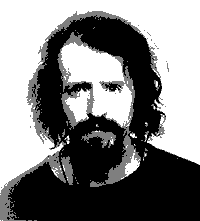 Serge Gorshkov
CONCEPTUAL LUBOK
S. I. Gorshkov, born in 1963;
graduated from Voronezh Art School in 1987

1990 - moving to the town of Pushchino

EXHIBITIONS:


1990

Scharlotte Mulligal's Gallery, Giessen, Germany
International Fair Art-Mif 1, Moscow

1991

personal exhibition, Pushchino
exhibition at the House of Journalist, Moscow

1992

exhibition "Material Evidence", A3 Gallery, Moscow
exhibition "Pearls of the Sea" (organised by Petroflot Marine Joint Stock Company), Moscow

1993

personal exhibition (painting, graphics, sculpture), Pushchino
International Fair Art-Mif 3, Moscow
personal exhibition (sculptures, graphics), Pushchino

1994

exhibition at the All-Russian Library of Foreign Literature, Moscow

1995

exhibition in the hotel Metropol, Moscow

1996

personal exhibition of sculpture, Pushchino

1997-1998

exhibitions at Carina gallery, Moscow


Works are kept in private collections in Germany, France, Italy etc.